Are you planning to study, work and live aboard? If the answer is yes, IELTS Fair 2018 is for you! IELTS Fair is an annual event held by the British Council to create an opportunity for all IELTS test takers to be equipped with the latest IELTS learning tips to achieve their desired scores and useful information about studying, working and living aboard.
IELTS is the world's most recognised English high-stakes test for higher education and global migration. Accepted by over 10,000 organisations in over 140 countries worldwide including top destinations such as UK, US, Canada, Australia, New Zealand, taking IELTS will help you unlock the world. The IELTS Fair will bring together British Council IELTS partners who are the top language centres, education and immigration agents in Vietnam. There will be a diverse range of information sessions delivered by prestigious guest speakers including the British Council IELTS experts, top IELTS tutors with IELTS band 9.0, consultants and representatives from embassies and consulates. 

Meet IELTS experts and guest speakers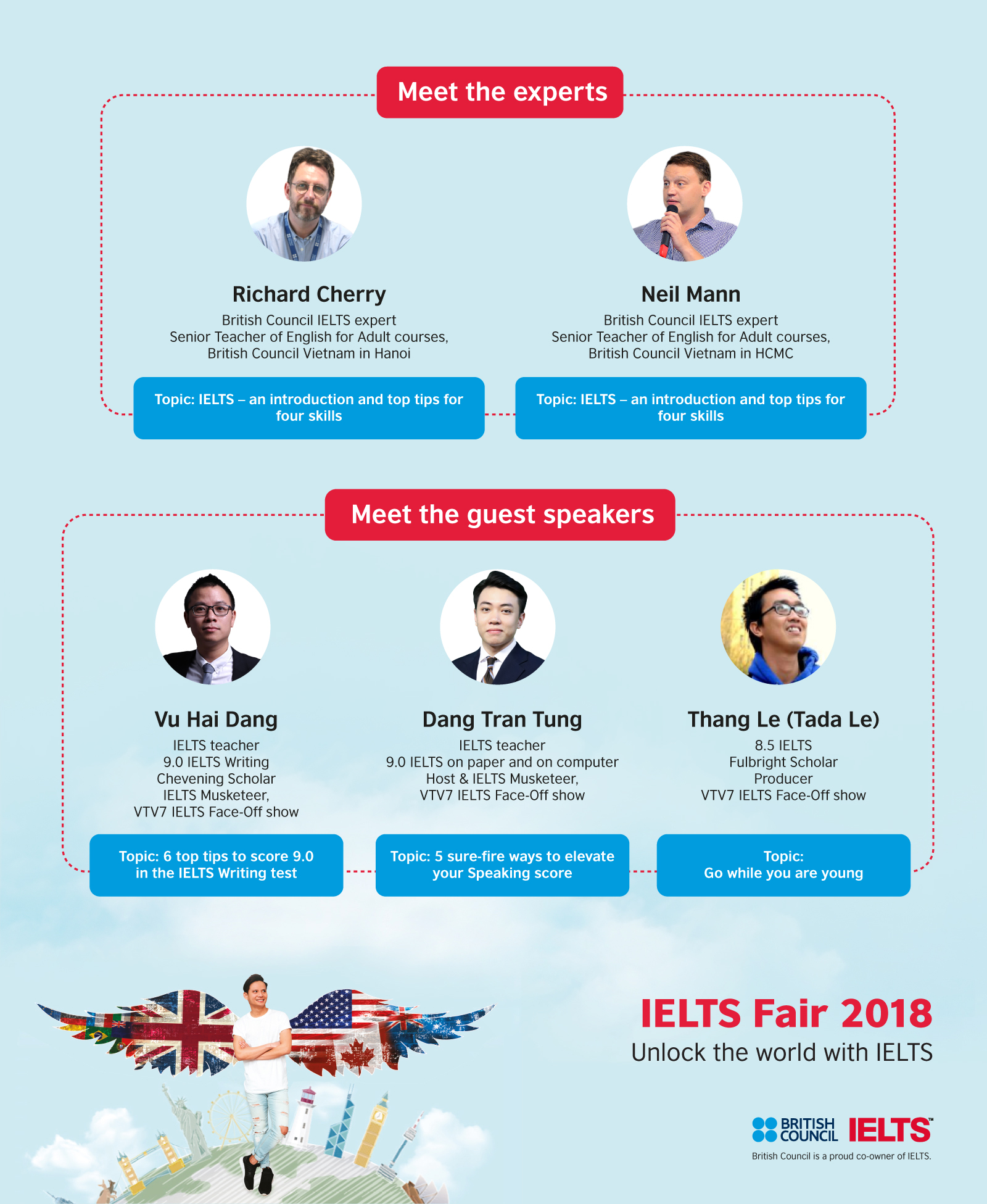 Promotion for on-site IELTS registrants
On-site IELTS registrants will receive a gift combo:
gift voucher valued at VND 300,000
a comprehensive online IELTS preparation course Road to IELTS (full version) with over 300 interactive activities, 13 videos giving advice and tutorials, 36 practice tests. The course is valued at VND 1.2 million.
All event participants will also receive exciting freebies and promos from both the British Council and our IELTS partners.
The event is free and open to the public. Limited seats available.
Register now or contact our hotline 1800 1299 to join our first IELTS Fair in Hanoi and Ho Chi Minh to be held in December 2018
Hanoi: 13.00 – 17.30, Saturday, 15 December 2018 at Melia Hotel, 44 Ly Thuong Kiet street, Hoan Kiem district
Ho Chi Minh city: 13.00 – 17.30, Sunday, 16 December 2018 at New World Hotel, 76 Le Lai, district 1
Note: At the British Council the safety and welfare of all our test takers and event participants is of the utmost importance. Our staff have a fundamental duty of care to protect all children with whom we work from harm and abuse.
On the IELTS Fair 2018, children or teenagers under 18 years old are only permitted to participate in the event with a parent present, or where parental consent to has been given in writing for the under 18 year old participant to attend the event, have their photo taken as part of event media coverage and leave the event premises alone. If you are aged under 18 years old, you will be contacted in advance to confirm parental consent and are required to bring a signed parental consent for to the event in order to participate.